The Solano County Sheriff's Office responded on Monday to a lawsuit brought by a woman who said deputies beat her unconscious for no reason. The sheriff's office said the woman "struck a deputy in the face" and released body- and dash-camera footage. But none of the video released shows the woman strike a deputy and it appears that additional video has not been released.
The woman, 33-year-old Nakia Porter, was arrested on Aug. 6, 2020, after she and her father were pulled over in rural Dixon. Porter said she was driving from Oakland to her home in Sacramento County but had grown tired of driving and pulled over so her father could take over. They did not realize when they parked on the dark dead-end street that Solano sheriff's deputies Dalton McCampbell and Lisa McDowell were behind her.
The deputies approached Porter after she got out of the car, told her to get back in the car, and as she moved back toward the driver's door, decided to detain her. They pushed her against her car, handcuffed her, and then pulled her back toward their patrol car. Deputies alleged that she struck McCampbell in the face, but no video shows the assault. Video shows that they hit Porter, who weighs 125 pounds, until she was unconscious.
The deputies said they stopped Porter because she had a Maryland license plate on the front of her car and a California plate in the rear. Porter said she had forgotten to change the plate after she moved. The deputies eventually confirmed the car was hers but took her to jail on suspicion of obstructing a police officer. The district attorney's office declined to prosecute.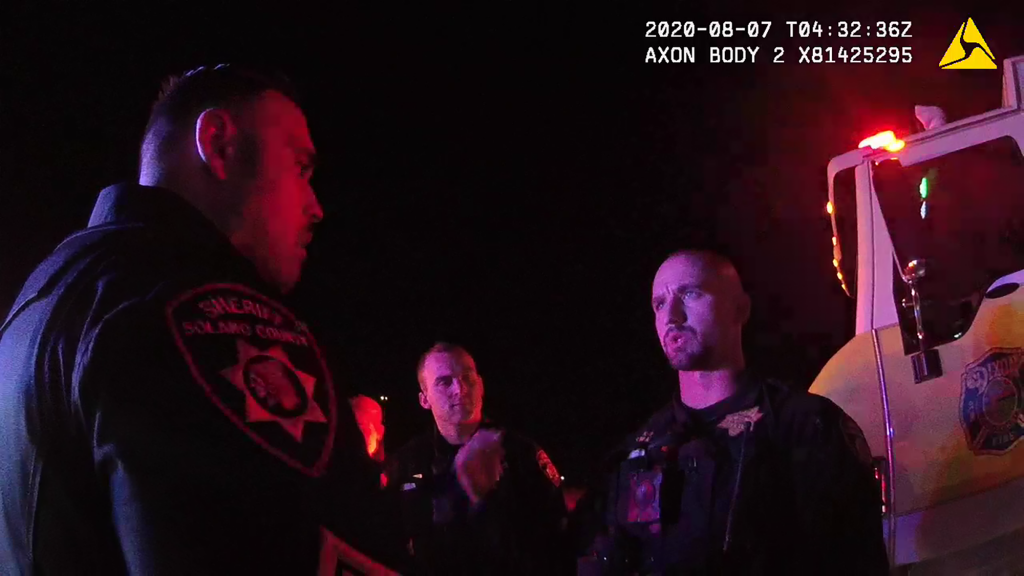 The sheriff's office statement about the incident Monday, which was published on Facebook, objected to a video released by Porter's attorney Yasin Almadani that compiled dash- and body-camera video with commentary pointing out inconsistencies in the sheriff's office statement. "We understand the video, as released, has left our community with questions regarding what happened," the sheriff's office wrote. "The Sheriff's Office is releasing the full-length videos as a vital means of maintaining transparency with the community we serve."
However, while the sheriff's office released additional dash-cam video, it does not appear that all video of the incident has been released. In particular, Porter's lawsuit alleges that the sheriff's office has obstructed release of McDowell's body-cam footage and McCampbell's dash-cam footage.
According to the lawsuit filed by Almadani last week, the county has said that the additional footage does not exist. But footage released by Almadani from the deputies' supervisor, Sgt. Roy Stockton, shows McDowell turn off her body camera before the two discuss the incident. The sheriff's office did not respond to questions about McDowell's camera footage.
"It is disappointing that even in the face of hard evidence that the Sheriff's deputies clearly violated the law, assaulted an innocent Black family, and lied about it, Sheriff [Tom] Ferrara continues to condone and cover up his deputies' lawlessness," Almadani said in a statement. "The evidence we already have certainly implicates the Sheriff's deputies, but we have reason to believe that the Sheriff's Office is concealing further implicating evidence, and we intend to get to the bottom of it."