Former U.S. Secretary of Housing and Urban Development Julián Castro, a Democratic candidate for president, visited a sprawling homeless encampment in Oakland on Wednesday and spoke to residents on what their urgent needs are.
The large camp, which occupies an adjacent lot to Home Depot off I-880, has sparked controversy among local city officials. Home Depot executives are putting pressure to find a solution on how to re-home the residents.
"What do you want people to know?" Castro asked Markayla, a resident who has lived with her child at the camp for the past five years and conducted the tour of the encampment.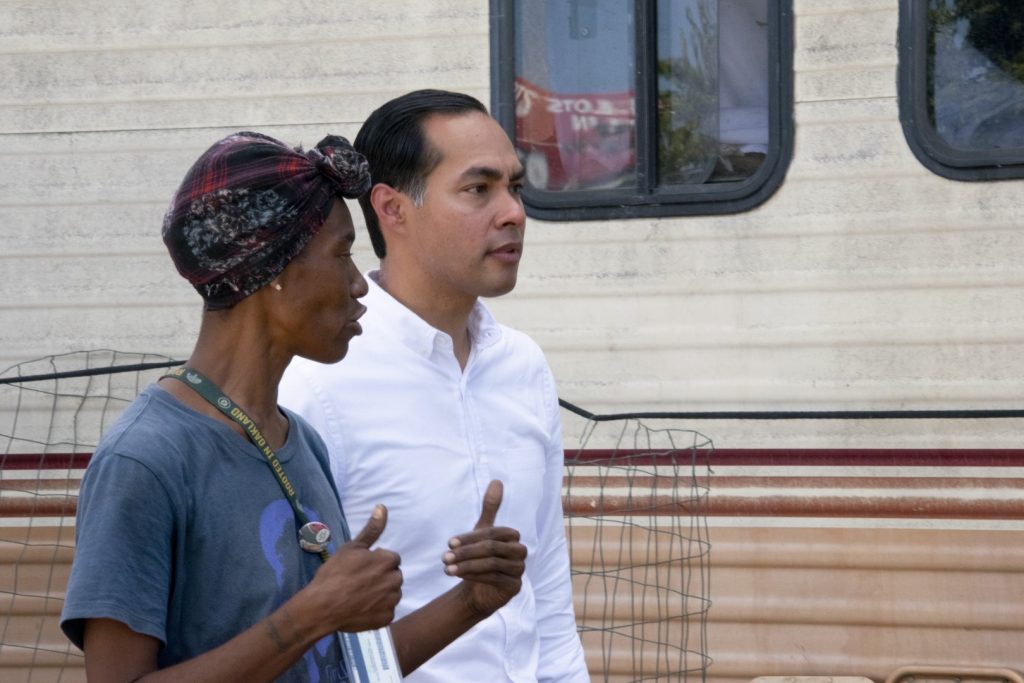 "People need to know that we are human beings," Markayla told him. Residents at the camp lack basic sanitary needs such as drinking water, toilets and regular garbage pick-ups, she said.
"I'm very appreciative. This is the first time we've had someone of a higher level come out," she said of Castro's visit. "You have my vote as long as it continues to benefit the people."
Castro said there are myths about homelessness that need to be shattered.
"Just because folks are homeless, just because people are poor, it doesn't mean that they are helpless, or that they don't know what they want or are not hard-working," he said.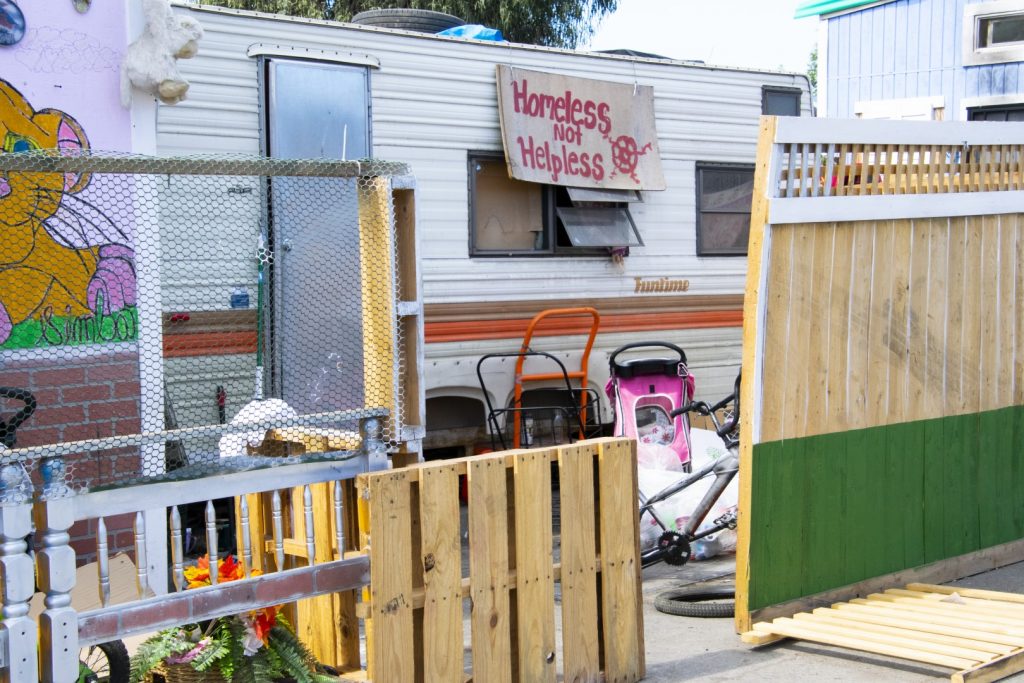 Castro's response to the homeless crisis in the Bay Area vastly differs from what the current head of U.S. Department of Housing and Urban Development, Ben Carson, had to say.
In a Sept. 19 letter to California Gov. Gavin Newsom denying federal assistance for the state's housing crisis, Carson wrote, "illegal and inadmissible aliens are increasing housing demand and draining resources."
Castro also spoke with Maria Fuentes, another resident who got the opportunity to address the candidate directly.
"We are happy to have you here, and hopefully we can come up with solutions," she told him. "Listen to what these people say, what their needs are, and what you can do to help them."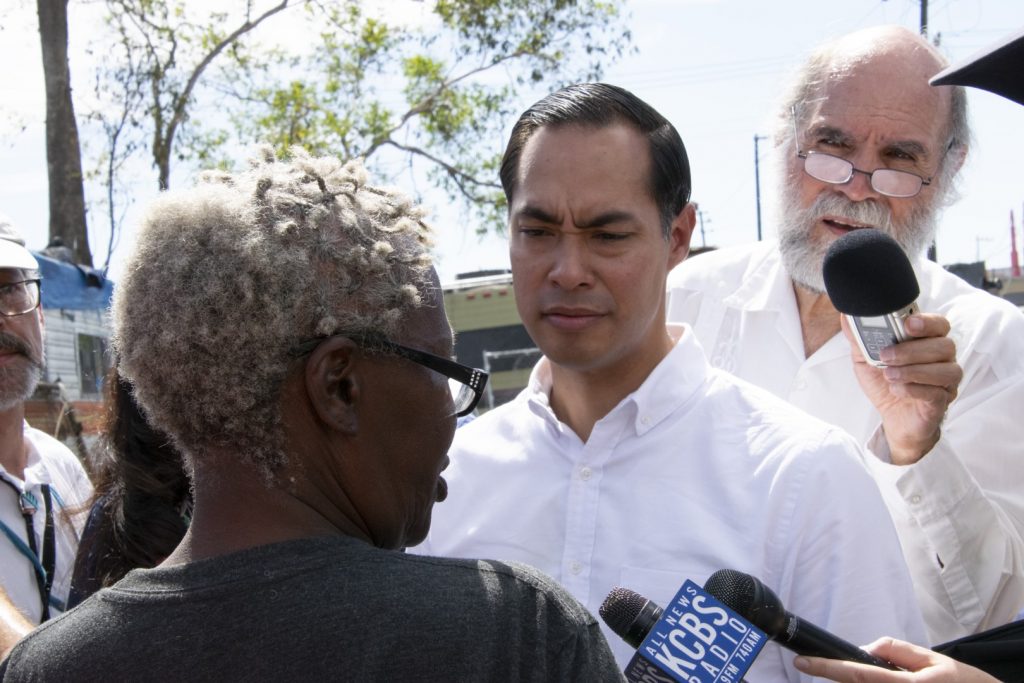 On his way out of the encampment, another resident, Elizabeth Easton, emphasized the desperate need for water. The day of Castro's visit was scorching hot, with temperatures over 90 degrees.
"Every day we come across battles," Easton said. "We get sick, and we are getting sick. A lot of times we don't have bottled water and have to drink out of the fire hydrant." 
"We have to make sure that you are treated with compassion, respect, and dignity," Castro told Easton. 
"We need to act to provide housing for people who desperately need it," Castro later told Oakland Reporter in an interview. "We have an urgent crisis in our country. My housing plan would meet that crisis."
Castro said he understands the need for more affordable housing to stop the displacement of lower-income residents. "I saw today why it is so urgent to create more housing. These people are doing the best that they can, but they constantly have to live in fear of being moved, relocated, and victims of crime," he said.
He said the issue of housing has not been adequately addressed in the presidential campaign so far. "I challenge The New York Times and CNN that are hosting the next debate to ask the question about housing and homelessness. It affects millions of people in the country, but we never get the question on the debate stage," he said.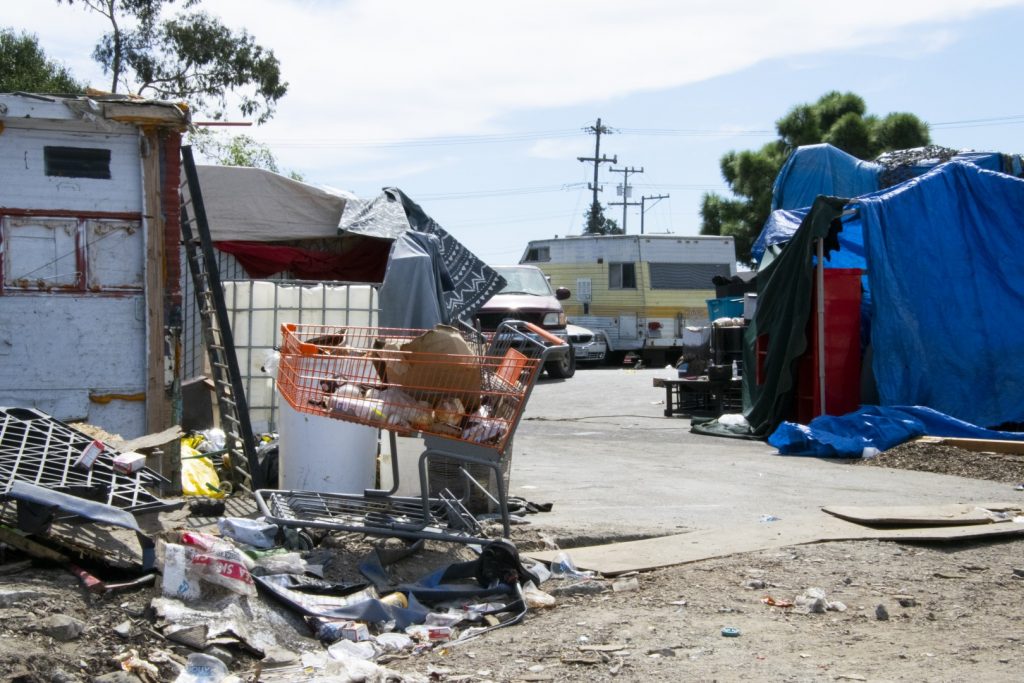 Prior to the tour of the encampment, Castro stopped by Fruitvale BART, where a prominent mural of Oscar Grant III is permanently on display. Grant was fatally shot by BART Police Officer Johannes Mehserle in 2009. Later, Castro held a fundraiser event at Guadalajara Mexican restaurant in the heart of Fruitvale.
Castro also spoke about immigration during his visit to the largely immigrant neighborhood of Fruitvale.
"I'm working towards a time of hope for our immigrant community, where everybody will be respected," he said. "We need to do more than talk and act. I have been bold and fearless when it comes to standing up for immigrants who need a voice.
His immigration plan includes a pathway to citizenship for Dreamers, people with temporary protected status and other undocumented immigrants. 
Omar Vasquez, a local student, asked Castro, "will my family be able to stay here?"
"Yes they will," Castro replied. "I promise you that we'll get to a day where no family will have to live in fear."
Freelance Journalist. Former East Bay Express. DM/email music/arts/culture tips that I can turn into stories:  azucena.rasilla@gmail.com