On two mornings last spring, just after far-right rallies in Berkeley, worker-owners at the Alchemy Collective Café in South Berkeley arrived to find their windows, adorned with Black Lives Matter and Native solidarity posters, shattered. The second time, Hercules Records, a shop across the street that also had a Black Lives Matter poster in its window, had its window broken as well.
Alchemy Collective member Chris Taruc-Myers said there was a steel ball bearing found near each window and a small hole in the center of the shattered glass, almost like a bullet hole. He speculated that the assailant was likely using a slingshot.
The first time it happened, a window with posters of Eric Garner and Sandra Bland was shattered the night after a March 4 rally that led to street brawls. The second time was on April 27, where a poster reading "Honor the Treaties" was hung. Hercules Records' window was broken the same night; the record store posted a video on Facebook documenting the damage to its window and Alchemy's.
Conservative commentator Ann Coulter had been scheduled to speak at the UC Berkeley campus that day. The event was canceled, but competing protests gathered anyway. There were alt-right rallies of varying size held in Berkeley throughout the year, several of which resulted in violent clashes. During another planned alt-right rally that was eventually cancelled, Taruc-Myers said Alchemy Collective members stayed up all night to make sure their windows weren't broken a third time.
It cost the building owner $800 to repair each of Alchemy's windows, Taruc-Myers said. They've since installed a camera outside to catch any would-be vandals in the act.
The rallies in Berkeley and the damage to the Alchemy Collective appear to be part of a surging national far-right movement steeped in racism, bigotry, and xenophobia that is even evident in the liberal Bay Area. Numerous incidents of vandalism throughout the Bay Area appear to have been part of a national trend of hate-inspired destruction that has impacted homes, schools, workplaces, and places of worship.
U.S. Department of Justice statistics indicate that there was a rise in such incidents in 2016, when President Donald Trump's campaign and its discriminatory platform became prominent. According to Justice Department statistics on hate crimes, there were fewer than 1,700 incidents of vandalism or destruction that were considered hate crimes each year in 2014 and 2015, but in 2016, there were more than 1,900, a 12 percent jump.
Last month, the Express reported on the rise in hate crimes in 2016, pointing out a particularly high rate of hate crimes in San Leandro and Berkeley. "When a presidential candidate openly vilifies immigrants, Muslims, Latinos, women, and the LGBT community, and empowers bigotry and hatred, it's not surprising that people will act out in their hate," Berkeley Mayor Jesse Arreguin said in November.
The Justice Department statistics are incomplete because they depend on voluntary reporting by police departments, but other research has shown similar trends. The Southern Poverty Law Center identified a huge spike in bias incidents following last year's election and has been tracking such activity throughout 2017.
While neither the Southern Poverty Law Center nor the Justice Department has released statistics for 2017 yet, there were several shocking examples of bigoted destruction in the East Bay this year.
In March, the owners of the Oakland Middle Eastern restaurant Ba-Bite arrived to find what appeared to be feces smeared on their window directly over a sign that reads "Sanctuary restaurant: A place at the table for everyone."
Ba-Bite owner Robert Gott said that there hasn't been any more vandalism since then, but occasionally his Muslim employees have been subjected to harassment, as has his Jewish wife, Mica Talmor-Gott. The incidents have been relatively rare, but despite the restaurant opening in early 2015, they never had such problems until this year, Gott said. Overall, however, Gott said the restaurant has had an outpouring of support from people repudiating Trump. Ba-Bite still proudly displays its "Sanctuary Restaurant" sign, he said.
A particularly disturbing trend of vandalism has been reported in schools, where there have been several incidents of bias-motivated vandalism and otherwise intimidating behavior.
In June, magic marker scrawls referencing Adolf Hitler were discovered on a wall at Edison High School in Alameda. But police concluded that the message just referenced a line from the TV series The Office and declined to follow up. Spray-painted racist messages were found in five places at the same school just after Trump's election.
In addition, Alameda High School was rocked by a series of anti-Semitic incidents, including bigoted, pro-Nazi texts sent to Jewish students. Alameda Magazine reported that swastikas "defaced a dumpster at Otis Elementary and the photo of a Jewish student on a bulletin board at Encinal Junior High. And at Otis Elementary, a Jewish fourth-grader also received inflammatory anti-Semitic comments and a death threat on a Google document that students used to comment on each other's essay, while another student commented that 'Hitler should have finished the job' in class."
Swastikas and racist language were drawn on a school district truck at Canyon Middle School in Castro Valley in September. The Alameda County Sheriff's Office investigated that incident as a hate crime. A locker room in Castro Valley High School was vandalized with slurs twice in June.
Other reported racist incidents at schools included an Instagram account discovered in June that depicted Albany High School students with nooses around their necks. At Piedmont High School, students were reportedly making Nazi salutes in hallways and forming a human swastika in a dance routine in May. Then in December, a student was removed from the school after school officials discovered a video posted online of him displaying weapons while making threats laden with racial epithets.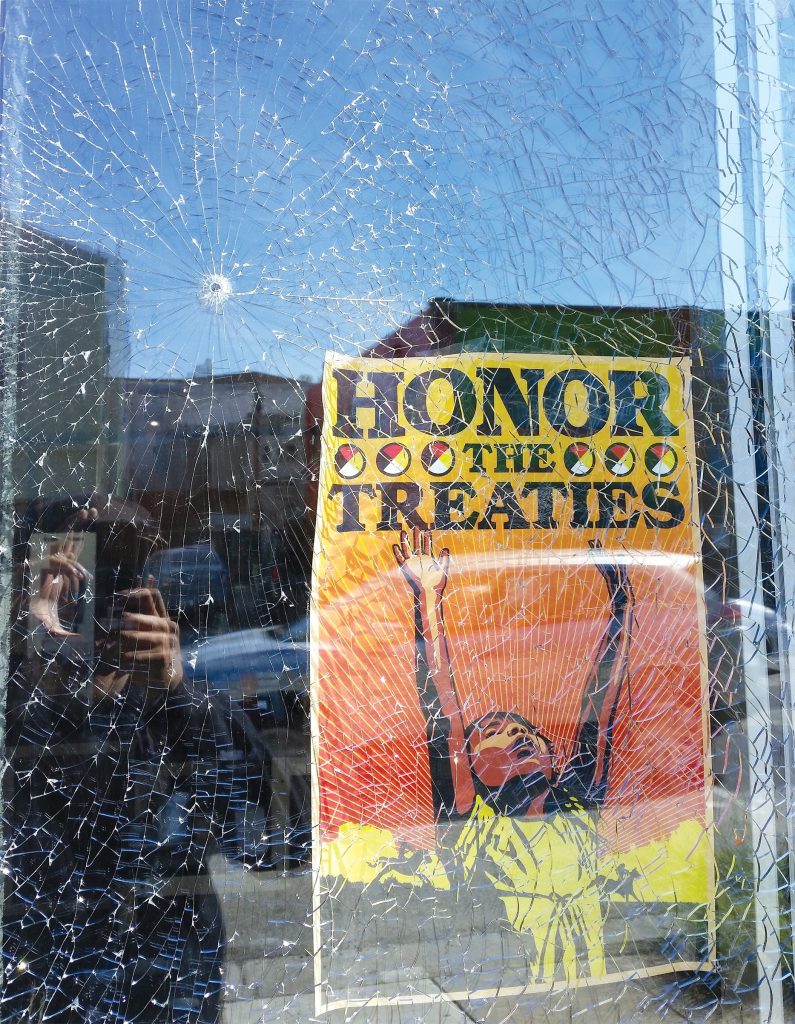 Jewish centers in both Oakland and Alameda were targeted for anti-Semitic vandalism this year. In August — just after a large white supremacist rally in Charlottesville, Va., where a counter-protester was killed — two classroom windows were broken at Temple Israel of Alameda. In September, during Rosh Hashanah, anti-Semitic statements were found spray-painted on Temple Sinai in Oakland.
In both cases, the community quickly rallied around the congregations: In Alameda, a vigil was held the evening the vandalism was discovered, and in Oakland, worshipers papered over the vandalism and left messages of support. "Those are Oakland ideals in play: We take care of each other through kindness, compassion, and action," Mayor Libby Schaaf said after the Oakland vandalism. "Today, we sent a collective message: 'Oakland stands united against hate.'"
Another tactic of racist intimidation is displaying a noose, a reference to the long history of terrorism against the Black community through lynching. Nooses were found twice at the Port of Oakland earlier this year, leading to a brief work stoppage at the Oakland International Container Terminal in May. In August, about two weeks after the Charlottesville rally, San Leandro police investigated social media postings showing a truck in the city with a noose hanging from its tailgate. According to a police press release, investigators located the driver, who was apologetic and said he didn't mean to offend anyone and would remove the noose from his truck. And in Fremont, two African-American workers sued Tesla, alleging that they were repeatedly subjected to racist epithets and graffiti.
While incidents of discrimination and racial hatred have never been absent in the Bay Area, Trump's election seems to have emboldened the perpetrators of such behavior, leading to a troubling level of intimidating vandalism and destruction in 2017.