When Kristin Matteson bought her three-bedroom Victorian house in West Oakland in 2015, she moved in next door to a vibrant arts community. Giant lofts at a 70,000-square-foot former warehouse at 1919 Market St. housed musicians, dancers, and other artists and makers for more than 10 years, bringing a creative energy to the neighborhood.
But after a series of complaints of unsafe conditions in the warehouse, the city declared the building unfit for habitation and all tenants were evicted in January 2016. The building was sold in June of that year. The new owner, developer Danny Haber, demolished most of the warehouse in the fall 2016, leaving only the portions of the façade and a crumbling wall adjacent to Matteson's house on Myrtle Street.
When the rains came that winter, the ground in the demolished warehouse flooded, along with Matteson's basement. An agent for her insurance provider inspected the basement in February 2017, finding that water had seeped in on the ground level because the roof had been removed from the warehouse next door. Matteson is concerned the water could contain toxic chemicals that were found on the site.
Last week, Matteson sued Haber seeking compensation for the damage to her house. The suit also names the city of Oakland, alleging that the city failed to properly maintain and inspect the property during demolition and construction.
The live-work project has been delayed by environmental review and Matteson's lawsuit threatens to delay it further. Meanwhile, Matteson and other nearby residents have said that Haber hasn't been adequately maintaining it, as the mostly demolished building has become a magnet for graffiti and illegal dumping. Haber says the property is well maintained and the warehouse demolition has nothing to do with the leak in Matteson's basement.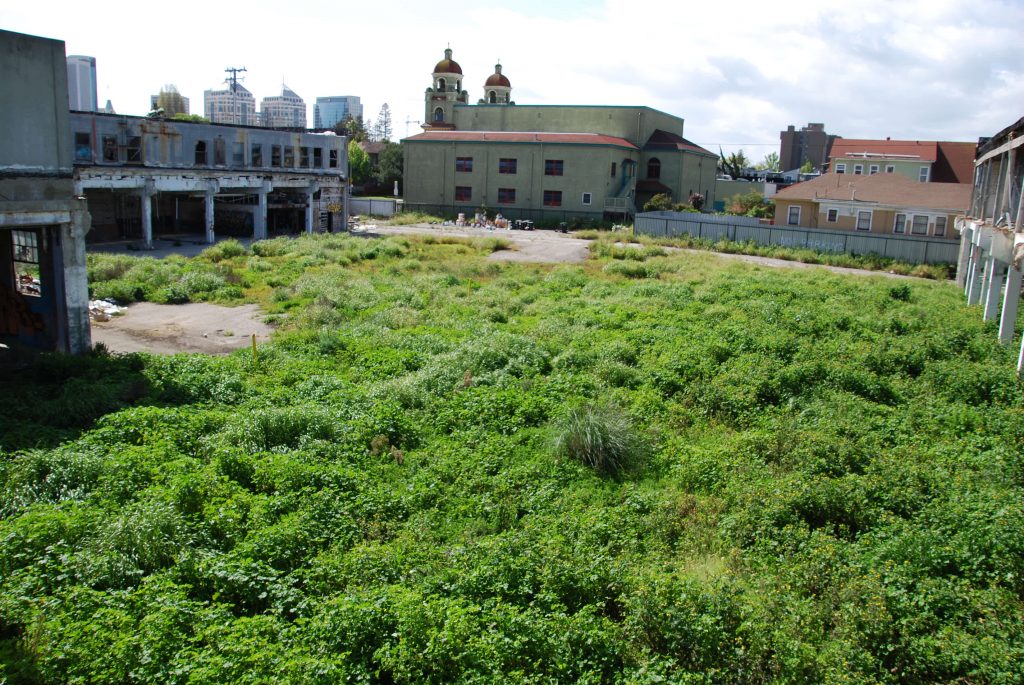 It's not the first time that Haber has been sued in connection with 1919 Market St. A series of lawsuits were filed by tenants starting in 2015 as it became clear that evictions at the warehouse were imminent, naming then-owner Seth Jacobson, property manager Madison Park Financial, which stepped away from the property as reports of code violations became public, and one of Haber's companies, 1919 Bayside LLC, as defendants. A consolidated lawsuit is still pending.
Once the building was red-tagged and all the tenants were evicted in 2016, Haber purchased it from Jacobson and obtained a permit to convert the warehouse to 63 live-work units. He started to demolish it in September and told the Express at the time that he expected construction to begin in summer 2017 on a new building that incorporated the old warehouse façade.
But the warehouse had a variety of industrial uses over the years, including by Greyhound Bus Lines, which had stored diesel fuel in two underground 10,000-gallon tanks under the sidewalk. The Alameda County Health Agency suspended Haber's work on the building in mid-October because it found inadequate environmental protection to the adjacent buildings, according to city of Oakland spokesperson Autumn King. Haber was required to conduct an environmental assessment of the property and conduct monthly meetings with neighbors to address their concerns.
The environmental assessment conducted by Pangea Environmental Services found that soil and groundwater at the site contained a variety of hazardous chemicals, including petroleum compounds, chloroform, benzene, and lead. The county health department released a draft remediation plan for the site in March that would require excavation and disposal of soil.
The highest concentration of chemicals was detected in the southeast and northwest corners of the property. Matteson's house is adjacent to the north wall on the western side of the building, right next to one of the most toxic areas of the site. According to the county's report, the concentrations of chemicals found in the soil is too low to pose a risk of migration to neighboring properties, but that hasn't allayed Matteson's concerns about the water leaking into her basement.
Brian Beveridge, an activist with the West Oakland Environmental Indicators Project who has examined pollution issues in West Oakland for years, said that, overall, engineers working with his group have found the county's assessment satisfactory but had some concerns about whether the area directly next to Matteson's house was tested properly. He said it appeared some of the wells drilled by Pangea could be in the wrong place to get accurate measurements.
In an interview, Haber disputed the idea that the warehouse demolition work led to the leaks in Matteson's basement, saying that water was actually coming through a narrow gap between the warehouse wall and her house. He said that he thinks the problem is from the original construction of the two buildings, dating back decades, when they weren't properly waterproofed.
Matteson and her attorney, James Cook from the law offices of civil rights attorney John Burris, said they have tried negotiating out of court with Haber, but he hasn't been receptive.
While Matteson's basement hasn't flooded this year, there has also been far less rain, and she still believes that water is leaking into her walls and damaging her house. Parts of her basement had been finished with drywall, and she even had a renter there for a while, but he moved upstairs when the leak started. She has to replace the drywall, but at this point she doesn't know the full extent of the damage. In an interview, Matteson said she can't begin repairs unless she coordinates with Haber's construction project. She said that she can't rent the basement anymore and is losing out on that income.
"What's frustrating is I bought a house, someone came and damaged my house, has taken no responsibility and is not willing to negotiate with us," Matteson said. "I'm stressed out about my health, the health of my roommates, and the health of my community."
Matteson can easily see inside of 1919 Market from her back porch and roof and provided photos to the Express of water pooling in the property after heavy rains last winter, including on a concrete slab directly next to her basement. There are large cracks in the wall next to her house, which has been reinforced with metal beams. She said that she had no problems with leakage before the warehouse demolition.
A series of updates on the 1919market.org website dating back to last year, which Haber said were written by project manager Jeremy Harris, promise better communication with residents and to address concerns about ponding and contaminated water potentially leaving the site. An update on the website in March 2017 reported that the company had hired a contractor to work on stormwater issues. Another update in April 2017 reported that straw bales had been placed around the perimeter to prevent water from leaving the site.
Neighbors have acknowledged some improvement in maintenance of the exterior, but Matteson says she has seen little maintenance of the interior. There is graffiti throughout the interior walls, indicating people have been entering the site illegally. She pointed out piles of garbage bags in one area, old furniture in another, and stacks of buckets.
Haber initially said there was no trash in the yard, but when shown photographs taken from Matteson's roof last week, he said that it had been left behind by demolition contractors over a year ago. He contends that the site is well-maintained and that crews promptly remove graffiti and haul away trash illegally dumped outside. "We're taking care of that site in a great way," he said.
He would prefer to begin construction, he said, but has been delayed by the environmental review, which he hadn't anticipated taking so long. "We thought the case was closed in the early '90s; we would do some testing. We didn't realize that we'd be testing and re-testing," Haber said. "But we're going ahead, and it's actually good that we're doing it."
With the draft remediation plan pending final approval, he could get back to work soon, and a recent update on the project's website reported that it could begin later this month. Meanwhile, Haber revised his project design with the city and is now seeking to create 102 live-work units. The design of Haber's projects typically involve three- to four-bedroom units, with roommates applying individually to the company and then paired through a social media algorithm and paying about $1,100 per month in rent.
But Matteson's lawsuit could throw another wrench in Haber's plans. It seeks to halt construction and remodeling plans until Haber has paid her damages and come up with a plan to stop the damage to her house.