After Rocky Kahn founded an Oakland-based tech startup that developed software for patent attorneys, he wanted help growing his business. So he set out to replace himself as its chief executive officer. With someone else focused on business development, Kahn hoped that he would be able to dedicate himself to research.
The Stanford University-educated engineer had worked at Hewlett Packard Labs as an electronics, optics, and software researcher in the late 1990s, where he developed a key component for optical mice and filed 12 patents. After founding an earlier company and consulting to some startups, he founded Team Patent in 2006. His company provided a browser-based word processor similar to Google Docs, but with added features to assist inventors and patent attorneys.
By 2009, Team Patent had been awarded a Small Business Innovation Research Grant by the National Science Foundation. At the time, Kahn was handling business development for his four-person company and eager to focus more on research. While attending a conference for grant attendees, Kahn met Phillippe Aucutt and his wife, Heather Hilleren. Aucutt, a former Wisconsin sales executive, told Kahn he was a business development executive and consultant who wanted to help startups. Kahn found him to be energetic and highly extroverted and thought he would be a capable salesman.
Kahn recruited Aucutt as a Team Patent board member the following year, and contracted with him as a business development consultant. At the time, Team Patent was expanding its focus to improving patent offices' information technology systems. In 2011, it won a contract with the European Patent Office to implement its software. Yet Kahn also wanted his company to expand into areas like litigation, electronic medical records, and building permit applications. Viewing the name Team Patent as too limiting, in 2013 the company changed its name to Edyt. Shortly before the change, it hired Aucutt as CEO.
But Kahn's vision was not to be realized. Less than four years later, he discovered that company invoices were going unpaid and his business funds were seriously depleted. He is now accusing Aucutt of embezzling almost $1 million at minimum — and possibly much more. Kahn is pursuing a criminal case against Aucutt, but despite extensive documentation, he has been having a hard time getting prosecutors to take the case.
The FBI declined to investigate the accusations, Kahn said, telling Edyt that the amount allegedly stolen was too small for it to investigate. The FBI's San Francisco field office referred questions regarding the matter to the U.S. Attorney's Office, which did not respond to questions. But according to an analysis by Syracuse University, federal white-collar crime prosecutions have been declining in recent years, particularly under President Donald Trump, and hit a 20-year low in 2018.
So Kahn and Edyt sued Aucutt in 2017. But after Aucutt counter-sued, the two parties reached a settlement in November that left both sides with nothing. With his company facing possible bankruptcy, Kahn said he could no longer afford the legal fees to fight the lawsuit.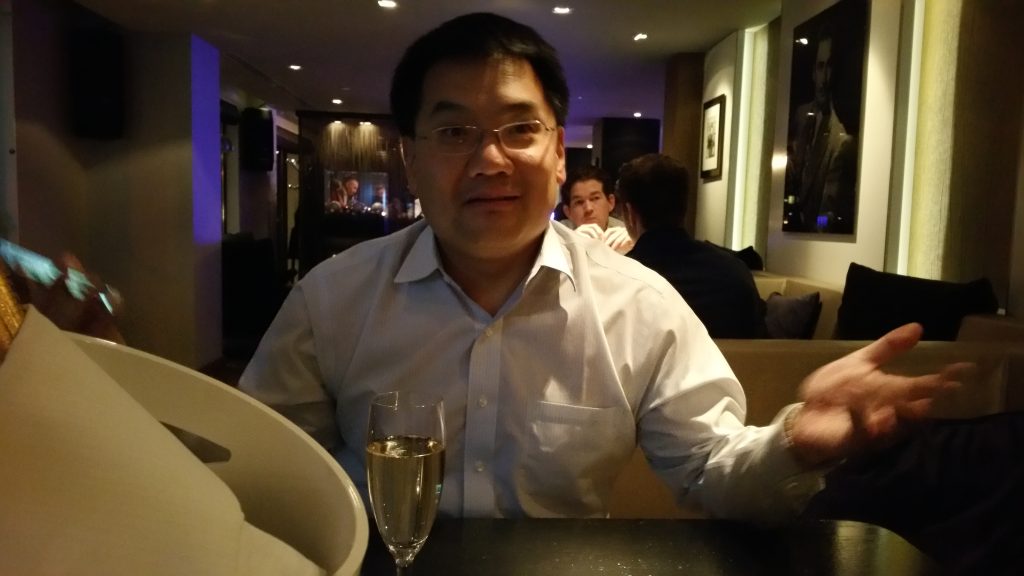 Reached by phone, Aucutt said that he couldn't discuss Kahn's allegations because of that settlement. His attorney Denis Kenney said the civil settlement prevented either party from saying anything defamatory that would portray the other in a false light. Kenney said the evidence is not compelling that Aucutt embezzled from Edyt.
"A compelling case would hardly be explained by a zero-sum settlement mutual release and dispersal of all claims," Kenney said. "It is far more difficult to prove a criminal case than a civil case and if he had evidence to prove a civil case, it didn't occur." Asked if Aucutt denied specific factual allegations that Kahn and Edyt have made, including whether Aucutt had ever embezzled funds from Edyt or provided the company with forged documents, Kenney would only say, "Mr. Aucutt denies any and all liability, civil or criminal."
The company's lawsuit alleged that in the middle of the reorganization that accompanied Team Patent's name change to Edyt, Aucutt assigned himself more shares of the company without authorization, increasing his ownership stake from 9.6 to 13.3 percent.
Kahn alleges that Aucutt's largest fraudulent transaction happened early in 2014, shortly after he became CEO. Edyt had been a subcontractor for a Dutch software company, Be Informed, which declared bankruptcy. Edyt's lawsuit alleged that in January 2014, Aucutt told the company that Edyt was liable for 2 million Euros due to an unspecified agreement between the two companies. However, he said that he had negotiated that to only 1 million Euros, or almost $1.4 million, according to Edyt's lawsuit. Because the company did not have the funds to pay the debt, Aucutt said that he paid the settlement with his own funds, according to the lawsuit. Then he allegedly made a series of transactions to reimburse himself.
Kahn provided Oakland magazine with an email from Aucutt dated June 2, 2014, stating that he had loaned the company "quite a bit of money over the last 18 months" and paid himself back $583,907.87, but said he was still owed $984,553.15. Kahn also provided a spreadsheet that was attached to the email, which contained a ledger of more than 250 transactions over about 13 months totaling over $1.5 million, including the $1.3 million Be Informed settlement.
Over the next few years, tensions only grew between Aucutt, Kahn and Edyt's board. According to Edyt's lawsuit, Aucutt hired his wife, Hilleren, as a consultant against the advice of the board. Aucutt also refused to stop using his personal email accounts to communicate with clients and said that the company's largest clients would only talk to him, the suit stated. He continued to loan the company money, according to the suit, but provided little documentation for the expenses.
Finally in late 2016, one of Edyt's vendors wrote to Kahn desperate to get an invoice paid. The vendor told Kahn that Aucutt had been saying he'd sent payments, but he hadn't, and the vendor worried that he would be unable to make his own payroll, according to the suit. Kahn found out that another vendor had not been paid and confronted Aucutt, who admitted he had not been paying invoices, according to the suit.
Kahn then reached out to Bert Jansen, the Dutch attorney who had overseen Be Informed's bankruptcy, asking for further documentation of the $1.3 million paid by Edyt. Jansen wrote back to Kahn saying that he was not aware of any settlement with Edyt and asking for further documentation. When Kahn sent back a document he said was provided by Aucutt with Jansen's letterhead and signature, Jansen said it was a forgery and filed a police report in the Netherlands.
The founder provided this magazine with copies of Jansen's emails and the allegedly forged document. In an email, Jansen confirmed that he curated the Be Informed settlement, that the emails provided by Kahn were his, and that he had filed a police report. He said that he was willing to travel to the U.S. to testify.
Edyt fired Aucutt in March 2017, ending Hilleren's contract and suing the couple for fraud in August. Hilleren and Aucutt counter-sued in October, alleging breach of contract; that they weren't paid overtime; were improperly classified as independent contractors; and weren't properly compensated when they were terminated, including not being paid their vested shares in the company. A settlement was reached in November awarding nothing to either party.
Kahn said the company was running out of funds and could no longer continue paying attorneys to fight the lawsuit. Aucutt had left the company with inadequate funds to continue its operations and it had no sale prospects lined up, Kahn said. Edyt employed 22 people at its peak, he said, but is currently operating with just a skeleton crew as it seeks to recover. In an email, he wrote, "Despite Aucutt's promises and responsibilities, it's unclear if Aucutt had performed any business development over the years for the inventions we had developed in our labs."
The founder feels betrayed, and wants justice. But Kahn said that the FBI and Oakland police have warned him not to expect any meaningful restitution, as people who commit embezzlement tend to hide assets and spend funds quickly.
"I'm pursuing this mostly out of a sense of justice," Kahn said. "If people move on and don't prosecute these things because it's expensive and distracting to put someone like Aucutt … in jail, then they have greater ability to perpetuate their actions on other victims."
Kahn is sad and angry that someone he'd trusted to run his company took advantage of the opportunity, scuttling years of his life's work and costing the jobs of other company employees. He fears that he was too trusting and ignored important warning signs. But he believes that in a startup environment, people have to trust each other.
"This was not a situation where someone resorts to crime because they have a hungry family to feed and there's no alternative," Kahn said. "This is someone who bit the hand that was feeding it."
Yet Kahn's pursuit of justice also has been frustrating, as he said the FBI and Alameda County District Attorney's Office initially didn't show much interest in the case. He noted that local prosecutors have stepped up their investigation in recent months.
Teresa Drenick, a spokesperson for the Alameda County District Attorney's Office, confirmed that her office had been in communication with Kahn and said the "matter remains under consideration." She declined to provide any more specific details about whether the district attorney's office may charge the case or when.
While Kahn hopes that the company can survive this, the ordeal has been a major setback, and has drained his and his staff's labor and resources. He's not expecting much help from restitution, but if he's going to get any, prosecutors would have to hurry up. Because of the three-year statute of limitations for felonies in California, time is running out.